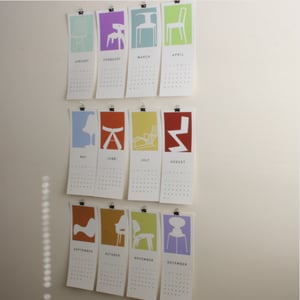 $

5.00
click :: print :: LOVE!
Simply print and cut. An easy and affordable way to have a beautiful calendar to hang or give as a gift.
This printable high-quality pdf contains:
• Instructions and resources and binding ideas
• 12 month calendar
The digital pdf calendar is set up to print two months at a time on US letterhead size paper. For best results, choose a heavier (80# cover to 110# cover), nice quality paper.
Final size: 4.25 x 11
Shipping (via email):
After payment has been made, you will receive a pdf within 24 hours. Moniter colors may vary slightly.
Featured in: LA Times, Decor 8, Paper N Stitch, Heart Handmade, Etsy Finds, Etsy Gift Guides, Paper Crave, and Neatostuff.
Copyright by Blue Tricycle 2010. All rights reserved.
You as a buyer, have been granted permission to use this calendar for your personal use. Mass production and commercial use of this design is not allowed.